As we look forward to spending more time with friends and family this holiday season, it's the perfect opportunity to get out and discover some unique, close-to-home destinations you may not have visited before.
From a farm working to preserve honeybee populations to a boutique shop crafting scrumptious, hand-made chocolates, it's all located just 30 minutes north of Red Deer in culturally rich Lacombe County, home to the vibrant communities of Lacombe, Eckville, Blackfalds, Alix, Bentley and Clive.
(As an added bonus, you'll find more than delicious distractions … If those holiday gifts have remained elusive, your daytrip will also offer some unique-to-Central-Alberta finds!)
Here's a look at what you might want to include in your itinerary….
If you're looking for a way to burn off some of those Christmas cookies, pack the winter gear and enjoy a little morning cross-country skiing. Or, if you prefer a more relaxing start to the day, drop a line in Gull Lake, where ice hut rentals can include heaters, hardwood floors and even large flat-screen TVs!
With the morning's catch secured in your cooler, it's time to visit the Gull Lake Honey Company, the family business of Lorne and Alida Prins, which specializes in honey and beautiful beeswax candles.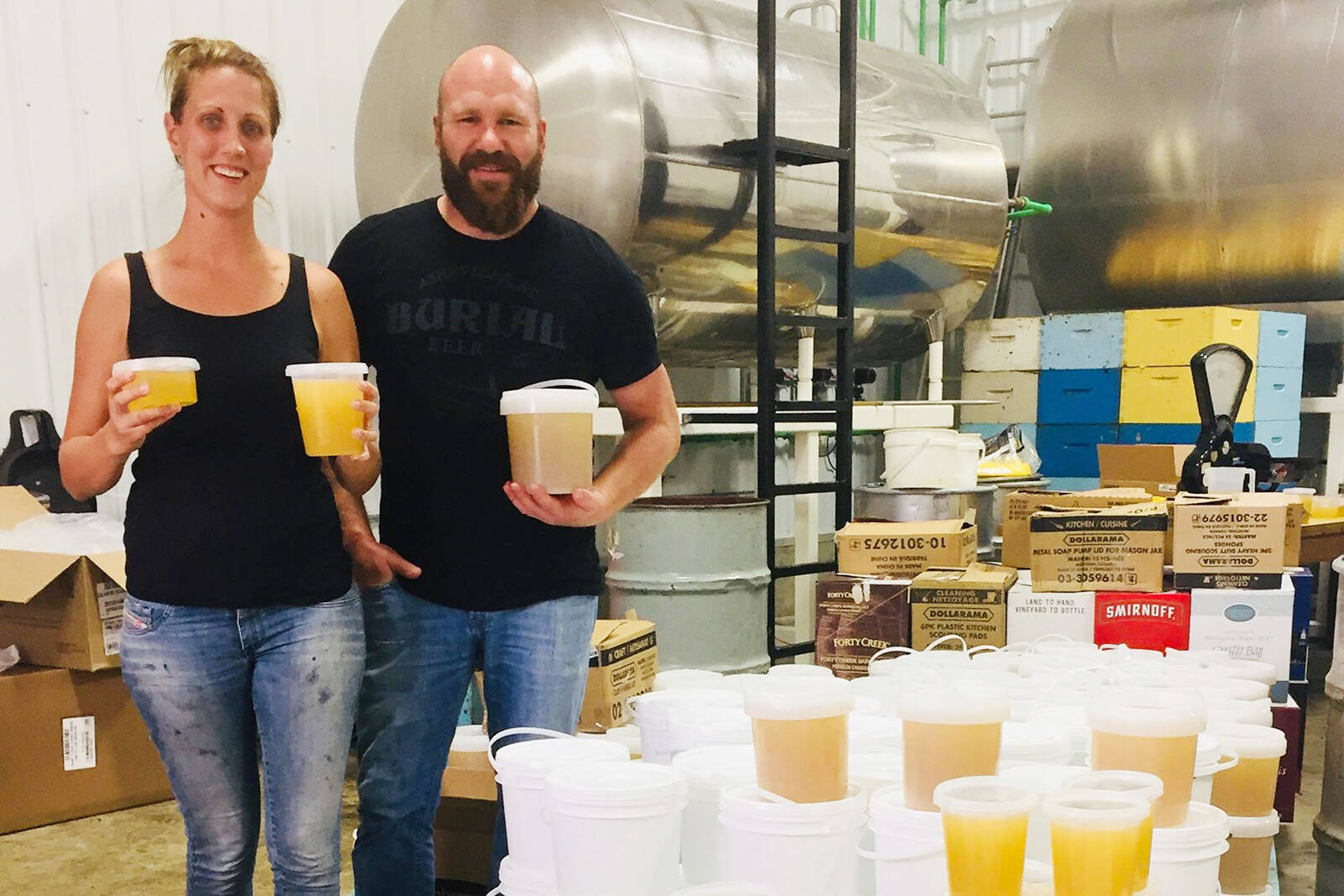 Located on the east side of the lake, the family-run honey farm is committed to keeping strong and healthy bee colonies. Browse the year-round artisan gift shop, where you'll find their beeswax candles crafted from custom moulds (their most recent was a collaboration with Blindman Brewing that looks like a craft beer can), let the kids explore the petting zoo, and take in scenic views of a bison ranch. You definitely won't want to miss the honey tap, which dispenses honey on demand!
Find the Gull Lake Honey Company about 30 minutes west of the City of Lacombe. Call them at 780- 916-2262 for details, or find them on Facebook.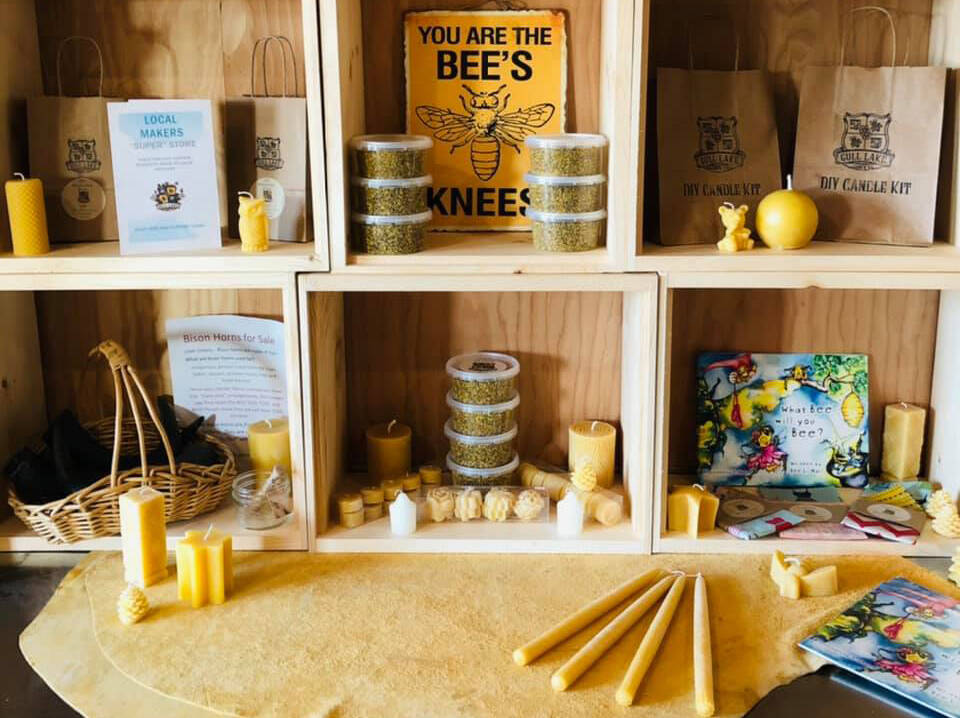 Lunch time!
Heading east to Lacombe, it's time to stop for lunch at one of the home-grown restaurants serving both locals and visitors alike. Tuck into a scratch-made soup or marvellous made-to-order sandwich from the Eastside Eatery, or check out the innovative offerings from Cilantro and Chive, including a "burger of the month" and poutine.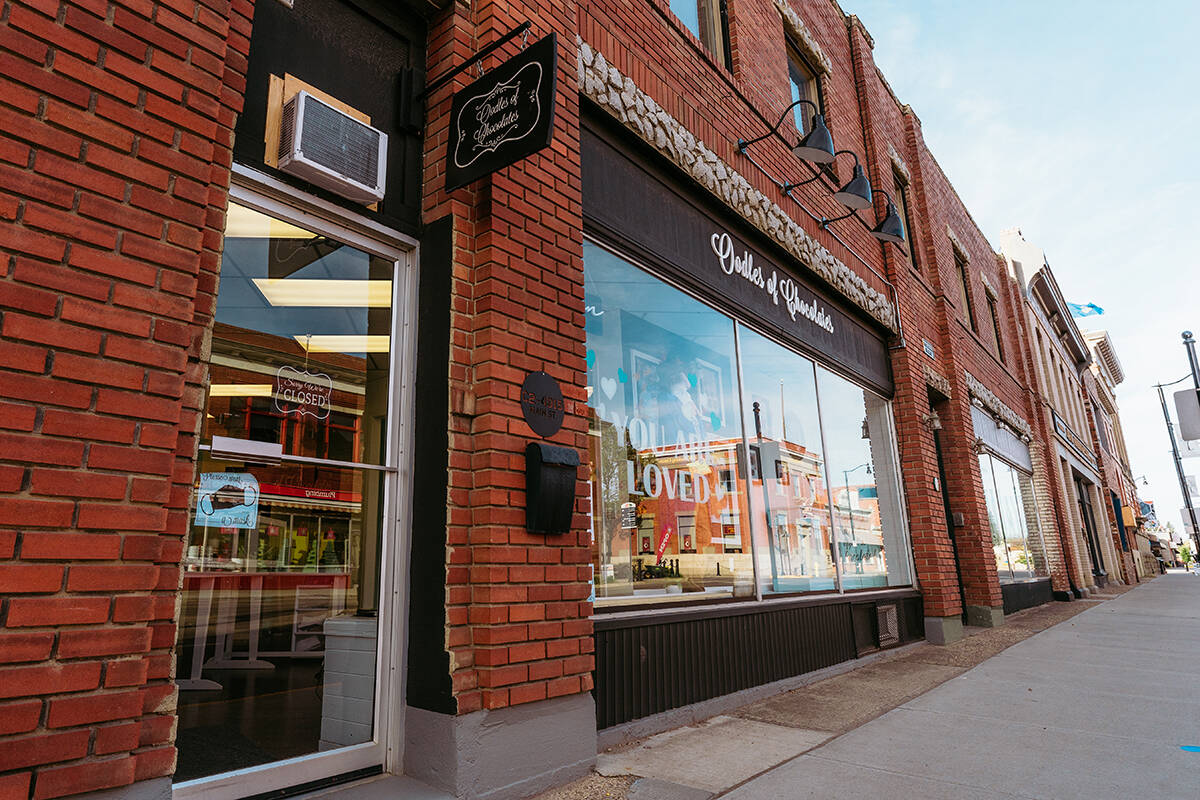 Do save room for a sweet treat from Oodles of Chocolates in downtown Lacombe, featuring hand-crafted chocolates from owner Edna Mcleod and her daughter.
At this must-visit Central Alberta hidden gem, you're virtually guaranteed to find something for that sweet tooth on your list, from chocolate-covered Oreos to their signature Hot Chocolate Sticks – they make 40,000 each year by hand! The business has grown from a building basement to a trendy downtown storefront and is committed to its local community, with chocolate bar wrappers showcasing the local murals and collaborations with local businesses on one-of-a-kind "treat boxes."
Contact Oodles of Chocolates at 1-403-318-7714 and follow them on Facebook to stay up-to-date with the latest treats.
Continue browsing downtown Lacombe, where you'll find an array of local boutiques, historic sites, like the landmark Flatiron Building – one of only two such buildings to be built in Alberta – and of course, the community's vibrant murals.
With a full day of memories and a few flavourful delights, we hope you've enjoyed your holiday daytrip to Lacombe County!